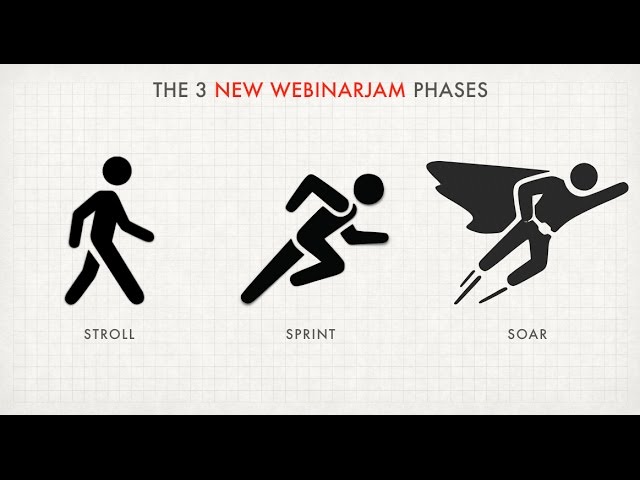 Here's a summary of what the video explains…
Release of the Google hangouts replacement for WebinarJam will happen in three phases:
Stroll – coming up in just a couple of weeks
Sprint
Soar

WebinarJam actually works in two parts:
The Room
The Broadcast
Google Hangouts is the current Room. Google Hangouts on Air is the current broadcast.
During the Stroll, the JamSession Room replaces Google Hangouts Room. Youtube Live replaces Hangouts on Air.
If you wish to continue using Hangouts, you can.
Key Stroll Points:
BETA testing of the JamSession Room (everyone is a beta tester!)
Takes place in current interface
It is 100% FREE and OPTIONAL
Connects to Youtube Live Broadcast via direct protocol
Will have advanced features in later stages
Key Sprint Points:
BETA testing the New WebinarJam
Takes place in new interface
Many NEW features
You will be able to import WJS webinars into NWJ
FREE to all current customers
Key Soar Points:
All NEW optional service
Premium broadcasting engine with custom options
Low Latency (very near real-time)
No Google or Youtube Watermark
High attendee limits
Very affordable with generous incentives to current customers
Will have several broadcast options, including BYO-Broadcaster
FAQ
Should I schedule a webinar I have in December now, or should I wait? It is totally safe to go ahead and schedule your future webinars. All your registration links will continue to function just as they do now.
How will this affect EverWebinar? This will have zero negative impact on your EverWebinars. The UI remains the same as you are currently accustomed and you can still use the source video of your choice.
Will I still be able to take my webinars and still make them EverWebinars?
Yes, absolutely. Your integration capabilities stay as convenient as they are now.
Will my recurring webinars, replica replays and existing webinar links work? Yes, those features will continue to work. Video Injections will IMPROVE and will automatically get recorded in your replica replays. Your RR will still function streaming directly from YT and you can still import them from EW.
Will attendees be limited? No
Will I have to learn a totally new system over again? No. Your user interface will remain almost identical to the one you are currently using, with one exception. Starting a webinar will be EASIER.
Will the recordings still be on YouTube? Yes. Anytime you broadcast via Youtube Live with the JamSession Room, a recording occurs on YT.
Will there still be a 30 second delay? Nope
Will viewers need to download an app? No
How can I be a BETA tester? Just keep being a customer 🙂
Want zero BS content that makes your business smarter and your life better delivered automatically to your inbox?

Join Genndi for FREE and never miss a barrier smashing post again.