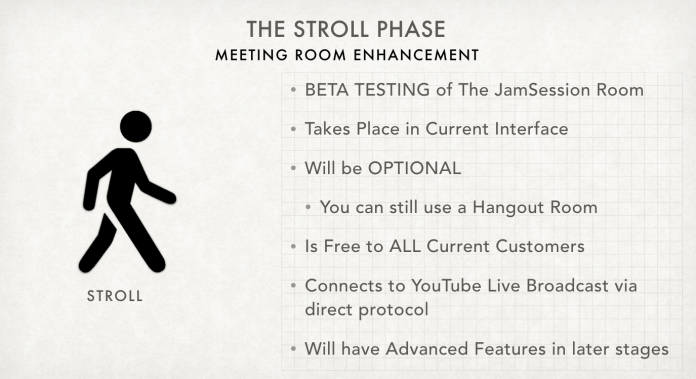 Hey Everyone!
I apologize for not shooting a dedicated video for this update, but I've got a pretty good excuse…
We're TESTING! 🙂
As hoped for, two weeks ago we called out that our first WebinarJam JamSession Room milestone would be achieved in about two weeks.

Lo and behold, we made our deadline (Cue Fanfare!!!).
So, let's talk about what that means, what happens next, and answer some questions.
First, if you haven't been keeping up – I STRONGLY recommend that you first watch these two update videos:
WebinarJam Update #1 – The Exodus from Google Hangouts has Begun.
WebinarJam Update #2 – The 3 Phases of The NEW WebinarJam
Watch those videos first, and then go ahead and dive into the rest of this update – trust me, it will make a lot more sense if you do.
What The JamSession Room Milestone Means
The JamSession Room is part of our "Stroll Phase", as referenced in Update Video #2, and in this image below: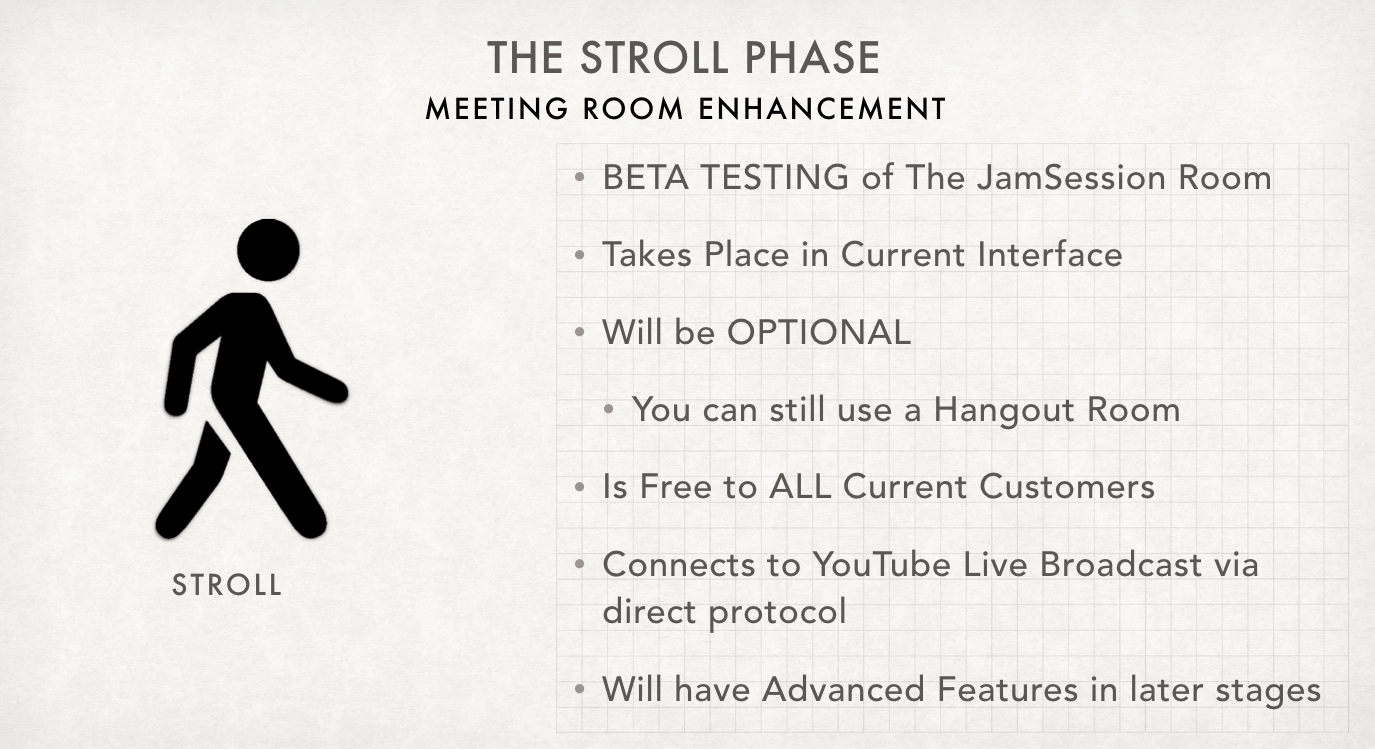 We have fully integrated the new Virtual Meeting Room into the core of WebinarJam. As of this moment, we are testing the new technology with currently existing WebinarJam features. We're checking to make sure that things like:
Feedback Flow
Attendee Spotlight
Video Injections/Hybrid Webinars
…and other features that were built to work with Google Hangouts are now working and stable with the JamSession Room.
We're making sure features like Screen Share work both on a Window/Application basis as well as a "Share Full Desktop" mode.
And we're ensuring that the 6 Presenter maximum is reliable for folks that want lots of Presenters on their Webinar.
What Happens NEXT?
We plan on internal testing taking about 2 weeks.
At the conclusion of that testing, we'll start to roll out BETA access to The JamSession Room to our members.
When that happens, BETA TESTERS will be able to chose the webinar provider when they configure their webinar, as you see in the image below: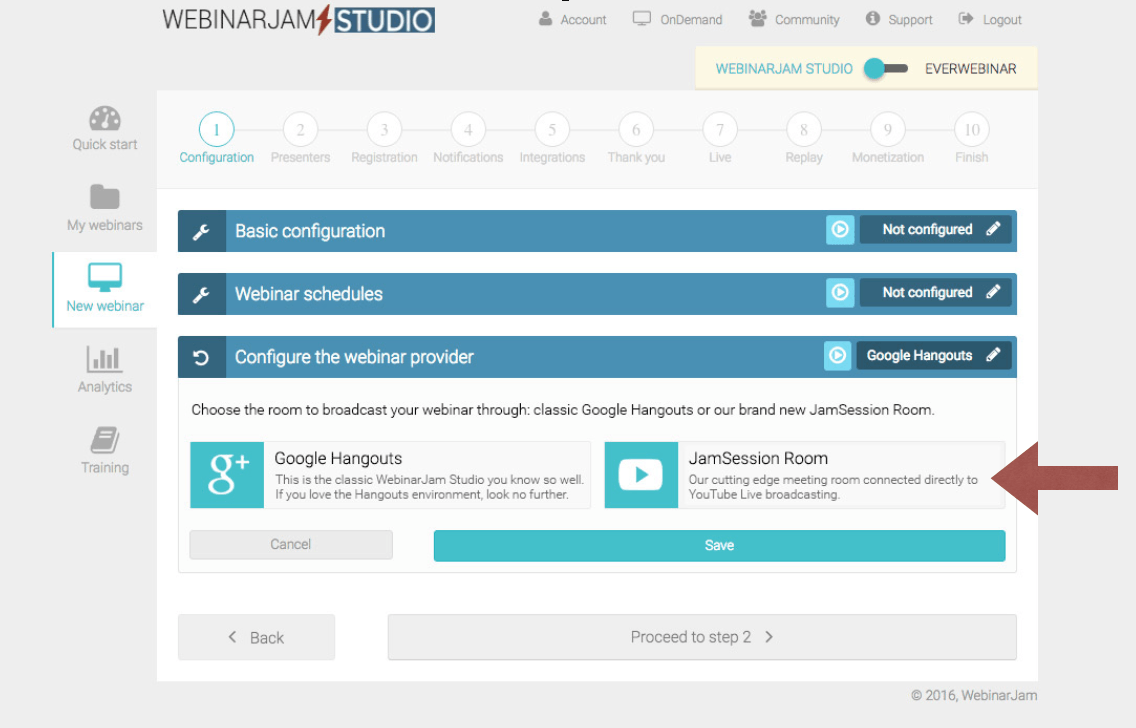 Obviously, we'll have more documentation for our users when The JamSession Room becomes available. For the time being, we wanted you to know that this is designed to be a fairly smooth process.
Beta Testing will be in 2 phases:
Limited Roll Out
System Wide Roll Out
The Limited Roll Out will be organized internally to reduce the risk of failure.
The System Wide Roll Out will be to all current members.
In other words, everyone gets to be a Beta Tester. 🙂 So, don't worry, all you have to do to get Beta Access to The JamSession Room is be a customer.
The Bottom Line:
I'm happy to report that progress is as designed. As always, there could be unforeseen challenges anytime brand new technology is put under load, and we're aware of the risks. That said, we're pretty excited about this first stage of the New WebinarJam.
Questions (and Answers)
I'm sure you can imagine that we've received hundreds of questions. And I get it – there's a lot going on, especially when you consider that The JamSession Room is just ONE of THREE update phases.

For the time being, we're going to remain focused on answering questions having to do with the transition from using the Google Hangouts meeting room to the JamSession Room. As we clear through each of our milestones, we'll dig deeper into the next phases of WebinarJam.
Operating from that principle, here are some answers as a bit of a recap:
What's the status of the New Release? When?
We're on track with The JamSession Room, which is part of our Stroll Phase. We're transitioning from Integration to Internal Testing. If the winds are with us, we hope to begin Phase 1 of Beta Testing in about two weeks.
What key features are changing in the First Phase?
Not many. You will continue to be able to:
ScreenShare
Use Video Injections
Use Attendee Spotlight
Have up to 6 Presenters
Have massive webinars
Use Feedback Flow…
Plus, we're in the process of bringing back "The Green Room" feature (Google killed it in Hangouts – The JamSession Room will bring it back). You'll be able to huddle with your co-presenters before and after a webinar without broadcasting that signal. This feature MAY be a bit delayed (i.e. longer than two weeks from now), but it's definitely in process.
While we might still encounter a situation where we'll need to modify or change a feature, our intent is to keep all of the features that are loved about WebinarJam Studio, and with the deployment of the JamSession Room, make the process of having a webinar as simple as possible.
2.5. What new features do you plan on for the Final New WebinarJam (Phase 3).
This list is incomplete. However, currently, we plan on rolling out the following features when we get to Phase 3 (I don't have a time frame, as said timeframe depends on the first 2 phases)
All New PageBuilder – More Flexible Templates and Design Options for your Registration, Thank You, and Replay pages. Now, your webinar pages can perfectly match the look and feel of your brand.
Password Protected Webinars – Each Attendee will be given a unique Password to log into a webinar, putting an end to signups with fake email addresses.
Slides from the Cloud – Upload your presentation to our server and control it from the WJ interface. This will clean up the quality of your presentations and give your presentation computer more upstream bandwidth to use.
ExpressJam – Set up a webinar with just 3 clicks.
Smart Preferences – Set up your webinar preferences Globally, and save time when you use them every time you configure a new webinar.
New Automations – Communicate with your registrants and attendees based on their behavior, and customize the messages they get after they take (or don't take) a specified action.
File Sharing – Upload files to distribute to your attendees during the webinar. Give them a Brochure, Handout, Homework, Application, etc.
InLine Help – Now you don't have to be the only expert in your company. Helpful instructions and examples are delivered directly in the WJ interface so your assistant can set up your next webinar.
FaceCast – Broadcast your webinar to FaceBook Live.
Integrations – Deeper integrations with 3rd Party apps, including Zapier.
The WebinarJam Live Engine – Complete control of your broadcasting signal. Real-Time transmission with no watermark.
And… more
Is there anything to Download?
For Presenters, there is a small download that enables the features in The JamSession Room.
As always, attendees will have to download NOTHING.
What's this going to cost me?
As we've demonstrated throughout our history, our policy is to continue to improve upon our service without causing financial issues to our customers.
Therefore, Both the JamSession Room, and the NEW FEATURES of The NEW WEBINARJAM are included in our customer's subscription.
🙂
The WebinarJam Live Broadcast Engine (the final phase of our roadmap) is an optional service. That service will not only be affordable at a retail level, we will also offer our typically generous incentives to current customers.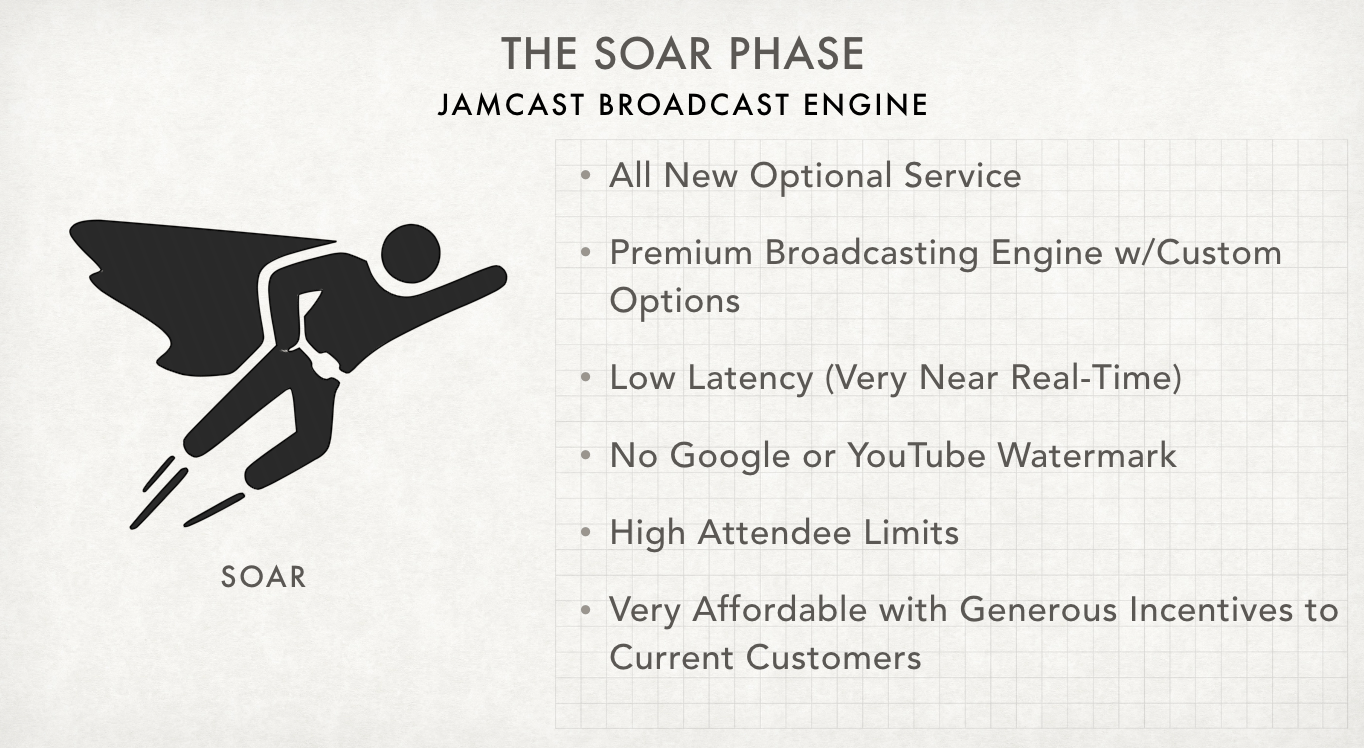 If you want to learn more about Phase 3, Check Out this part of Video Update #2.
Thanks for tuning into this Update.
I hope to have a further progress report (now that we're testing internally) within a week's time.
In the meantime, we understand that you will continue to have questions, especially as we get into later phases of development. We are very focused on our first phase, and that's where our attention will be for the next few weeks. If we don't answer a question pertaining to a later phase of development, please don't take it personally – there's a LOT of information to deliver in every phase, and we're trying to keep everyone focused on the improvements that are dead ahead, as well as assuage any subscription concerns.
Feel free to ask whatever questions you like. As we near those development milestones, we'll meet you with answers.
Thanks very much for being a customer. We're looking forward to giving you this new technology so you can take your Livecasts, Webinars, and Virtual Events to the next level!
XOXO,
Andy Jenkins
P.S. Have you been wanting to try WebinarJam without the full year commitment?
Now you can! Sign up for our free trial here.
Want zero BS content that makes your business smarter and your life better delivered automatically to your inbox?

Join Genndi for FREE and never miss a barrier smashing post again.