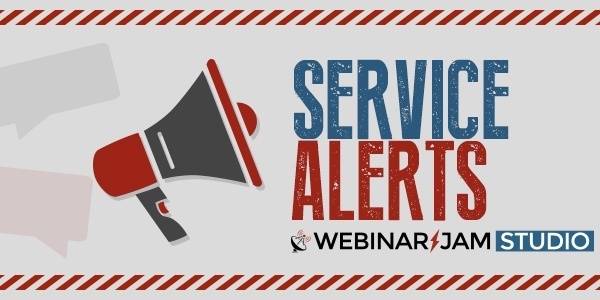 Good News!
Google has updated their API and we're now able to start a webinar with Hangouts on Air using the automated process again!  Effective tomorrow, you'll no longer be redirected to your YouTube channel to manually create your live session.
(And the crowd roars!)
As a reminder, WebinarJam's simplified start up process is:
Open your webinar owner link.
 Log into your google account
Wait for the start broadcast button to fully load
Enter the room in the WebinarJam right sidebar
Start your broadcast!

Tomorrow morning (Nov 18th) at 10:05 AM Pacific Time, we'll be updating the process to your accounts.  If you are broadcasting a live webinar at that time, you will be completely fine, this update will have no impact on a webinar in progress.
Before you login to WebinarJam after the update tomorrow morning, you'll need to take three steps to ensure you have the update fully installed in your account.
Step 1. Clear your cookies.
Step 2. Login to your WebinarJam Account
Step 3. Refresh Your Browser
This update is the first in a long line of good news we'll be bringing you over the next few weeks.
Update on JamSession Room BETA
We are still moving forward with our plans for the Jam Session Room beta, our replacement for the Google Hangouts broadcast room.   We expect to have a final round of performance testing on Tuesday with our entire staff.
We will start granting access to the Jam Session Room to some select power users next week, and based on results, roll out the beta version to all users, in stages, shortly thereafter.
Thank you for your loyalty and support as we've navigated this Google change.
Keep Jammin',
Andy Jenkins
CEO, Genesis Digital
Want zero BS content that makes your business smarter and your life better delivered automatically to your inbox?

Join Genndi for FREE and never miss a barrier smashing post again.