Hello Beautiful People (Can you tell how excited I am?)!
I'm very pleased to announce that Stage 1 of the New WebinarJam is officially in Beta.
And it's awesome.  This single new deployment of the JamSession Room is going to improve the reliability, quality, and ease of use of your Webinars DRAMATICALLY.  And this is only the FIRST of THREE stages of our planned WebinarJam Improvement.  But I don't want to get ahead of myself…
What is it?
Stage 1 introduces a brand new Virtual Meeting Room technology.  We call it The JamSession Room, and it's where you will conduct your Live Streams, Webinars, and Virtual Presentations.  It completely replaces the Google Hangouts Room that previously worked pretty good… when it felt like it.  I'm not bitter.
That JamSession Room technology is where you and your presenters will gather to share webcams, share your desktop, or share application windows so you can give your demos or show your slides.  It's elegant (And will get even better), it's beautiful (And will get even better), and even though all JamSession Powered Webinars will now run on our cluster of cloud-based servers, it's a 100% FREE Upgrade to ALL current WebinarJam Users.
Thank You.  I saw a Facebook post yesterday where someone said that we've always placed our loyal customers on a pedestal – and that means SO much to hear someone recognize what is actually a company policy.
What's Changed?
We've managed to (So Far – the beta test will tell us more) keep most of the things people loved about WebinarJam's webinar room, and got rid of (Most of) the things people were less than thrilled with.
The Good Stuff:
Hybrid Video Injections – Work Better than Ever.

Attendee Spotlight – Awesome

Feedback Flow – Yes!

Polls, Surveys, Call to Action Buttons – You Bet.
Even Better Stuff
Remember how in Google Hangouts you could only have 1 person on the screen at a time.
Yeah, no.  That was lame.  Check this out: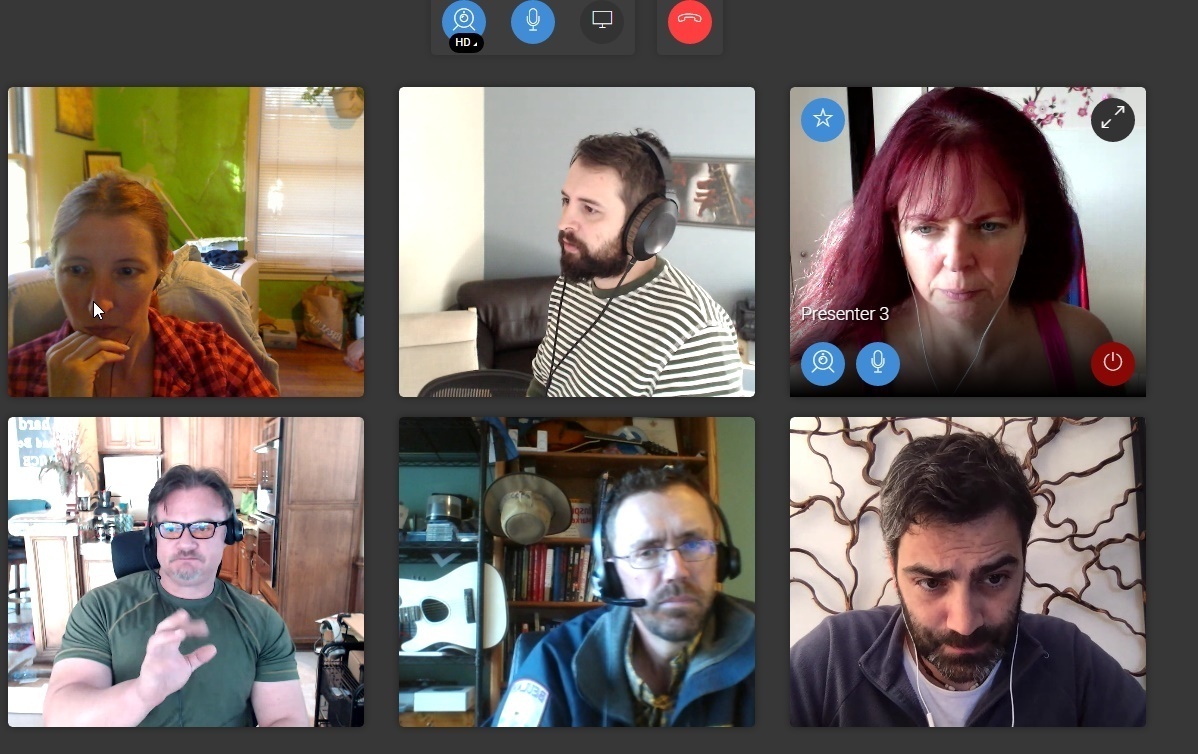 That's right.  The JamSession Room will simultaneously display up to 6 HD Full Frame-Rate WebCam sources – Simultaneously.  (The look Donna is giving me is because I was doing The Robot during our last testing session #DontQuitMyDayJob.)
And The JamSession Room scales gracefully, giving more bandwidth to individual signals as there are less signals to transmit.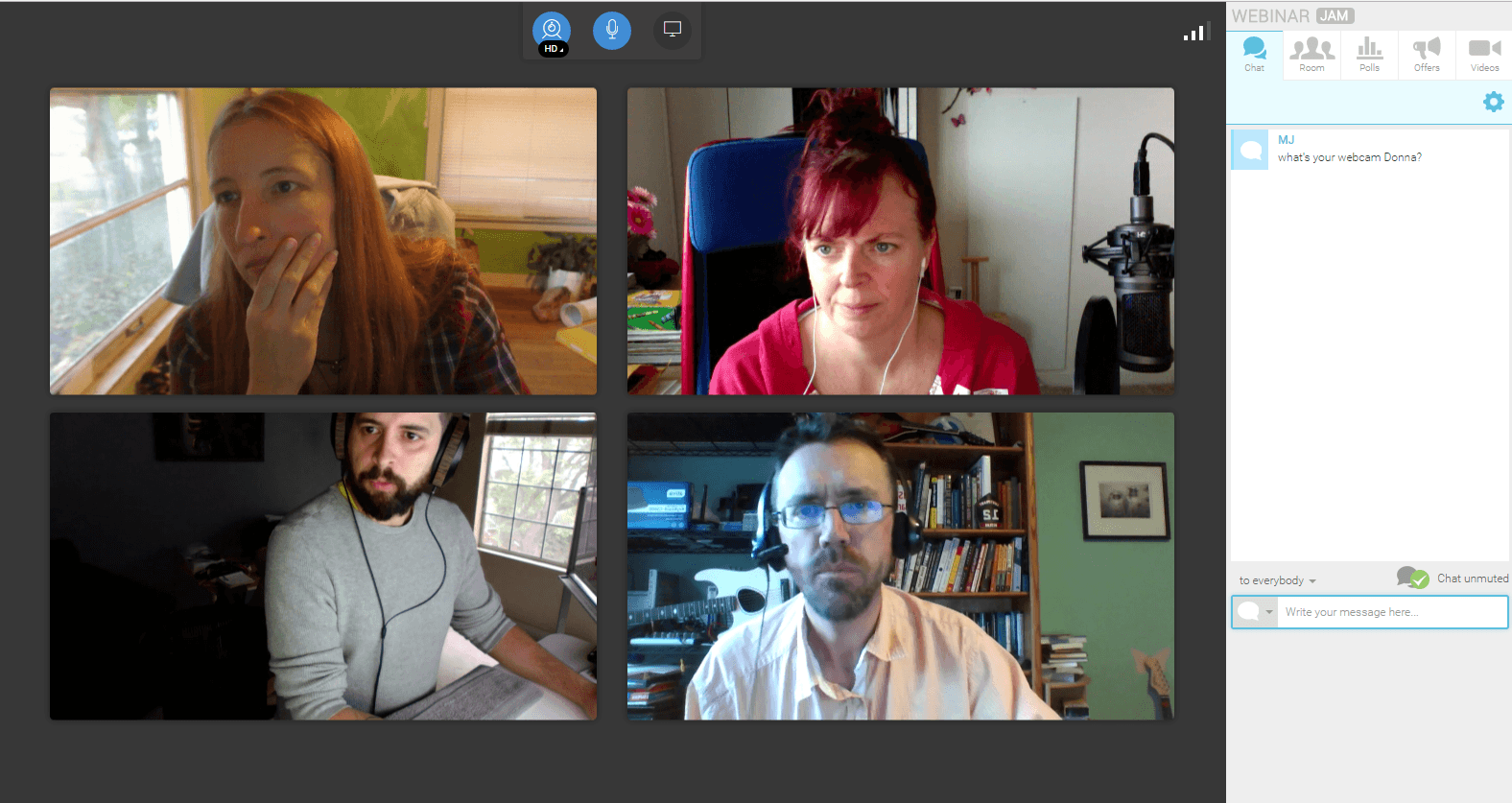 Of course, you can share your screen with Thumbnails of all of the presenters across the bottom of the interface, and in a future revision, we plan on rolling out Picture In Picture, where your webcam is a thumbnail while your screen share is the primary source.  That will be something that happens closer to Q1.  
Even Cooler Stuff:
Because we're able to skip the use of a GooglePlus connection to YouTube Live and can connect directly to YTL – the delay between you and your attendees has been cut in half.  Solid, low latency wired connections via a quality ISP are showing delays in the scant 8-12 second range.
What Do I do? Cause I want this shizzle!
Nothing.  You're gonna get it.  Here's how it will work:
We're obviously balancing being cautious and expeditious.  We want you to have this new tech, but under conditions of Tank-Like Stability.  So, this week, we're rolling out Beta Accounts to Users that have helped us in the past with testing.
Depending on how it all goes, We'll begin provisioning accounts SYSTEM WIDE.  The timetable is always subject to what we find that needs fixing, but taking an optimistic view, we could be starting the roll out in 7-10 days.
You'll know you've been given access to the JamSession Room because your User Interface will indicate that you now have JamSession Beta Capability.  There will be a notification in your dashboard.

What Can I do with it?
Try to break it.
Remember, this is a BETA product.  It will absolutely have glitches and bugs.  While we've done our level best to test the ever living poop out of it, everyone's machines, set ups, locations, etc. are different.  That's why we put it into Public Beta – so you can tell US what you find that needs to be fixed.
Can you give a Webinar with it?  Absolutely.
Should you give a Webinar with it? If that Webinar is critical to your survival – then NO.  
Remember, as amazing as our Developers are, the prospect of Simultaneously mixing, syncing, managing, and encoding 6 streams of High Definition Video from unstandardized computers and ISPs is HARD – that's why we're pretty much the only people that are doing it in this capacity.
Just know the honest, unvarnished truth – we don't know what could go wrong because your situation is different than ours.  So, while we encourage you to test it TO DEATH, just know that things could break – and if they do in the middle of an important webinar, while I absolutely feel your pain, that's what is possible with the Beta.  We cool with that understanding?
Cool.
Finally, there will be a bug-reporting process.  As an Honor-Agreement, if you're going to Beta Test this technology for us, you are also agreeing to report any bugs that you find.  That's really important, and I hope you help us to help you.
What's Next?
If you're on the Original Beta Designation List, we'll be contacting you shortly with Instructions.  As that process progresses, we'll update everyone with our next anticipated roll out, and additional considerations when using the JamSession Room for your Webinars.
While this is the end of this communication, it really is the beginning of a NEW Era of WebinarJam.  Over the coming weeks, you'll see WebinarJam deploy new technology and features that are simply not available ANYWHERE – for ANY PRICE.  We like it that way, and we know that our customers like that too.  There is more exciting news ahead, including a massive re-design along with some crowd-favorite features that you'll soon wonder how you ever lived without.  
Special Thanks to our Ever-Jam Development Team, led by Raul Predescu and Hector Yague.  They've given up countless weekends and regular sleep to bring you this opportunity, and their contribution and innovation cannot be understated.
And thank YOU.  I know that WebinarJam started humbly as a Plug-In for Google Hangouts.  But because of the loyalty, support, and enthusiastic cheerleading of our customers, we've stretched to make it become something extraordinary.  Your support has made our jobs very fulfilling.
XOXO,
Andy Jenkins
CEO, Genesis Digital