How many Internet Marketers does it take to change a light bulb?
Just one.
But first they just need to check their emails, post a tweet, login to Facebook, check their emails again, have a quick game of Candy Crush, grab a coffee, check their emails again…
Why are we so easily distracted? Maybe it's because… Squirrel!
Actually, it doesn't matter why. Short attention spans are a plague that affects everyone. And what's really important, if you're a webinar host, is how to combat the tendency of the audience to tune out. If the people watching our webinars have a dozen things competing for their attention, it's our job to help them stay focused.
MTV showed us the way decades ago with their patented fast-cut editing style. It's hard to stop watching when a new eye-popping visual appears every six seconds. We don't quite need to go to those lengths during our webinars, but the lesson is clear – changing the visual at frequent intervals is a simple method for keeping the attention of your audience.
Watch any news or sports channel and you'll see this technique used endlessly. Whether it's a jump to a live reporter, a video feed of an interview subject, a new slide behind the presenter, or a video clip, the content never settles in one place for too long.
The same effect can be achieved on a webinar by switching between live video and slides, and interspersing the presentation with recorded video clips, interviews with experts or audience members, and screen-sharing.
Whether or not you can use all of these different techniques will depend on your available resources and the suitability of your webinar content. But it isn't necessary to use all of these visual tricks to keep freshening up your presentation. Even just switching back and forth between your live video feed and your webinar slides is effective. Each change in visual brings with it a resetting of the audience's attention.
In fact…
Even if you simply put together a good collection of PowerPoint slides to accompany your delivery, that repeated change in visual will serve you far better than a single static slide accompanied by your voice over.
Of course, when I say "simply…"
Putting together a good PowerPoint presentation is no slam-dunk. You either need to learn some solid PowerPoint skills or you need to pay a chunk of cash to a designer. And either way, you still need to write the text for the slides, and figure out a logical sequence to put it together.
So, how about we make things a little easier for you…
Not only have we put together an amazing PowerPoint template, we're giving it away for free. Keep reading to find out how to get your hands on it.
Filling in the Blanks
An effective webinar PowerPoint presentation needs three things:
A smart design.
Attention-grabbing copy.
A logical sequence.
With our Webinar PowerPoint Template, we've covered all three of these critical factors.
The design is smart and professional, without being overly fussy and running the risk of distracting from the text. The text contains numerous "fill in the blanks" sequences, complete with examples to make customization fast and easy. And the whole set of slides is laid out in the perfect sequence for a sales webinar(1)If you're not running a sales webinar, you can just edit and delete slides as appropriate, and the sequence will still help you put together a compelling presentation that will maximize audience stick.
.
Instructions are built right into the template so that, once you've created your webinar content, you can easily edit the slides to match. For example, here's slides #4 and #5.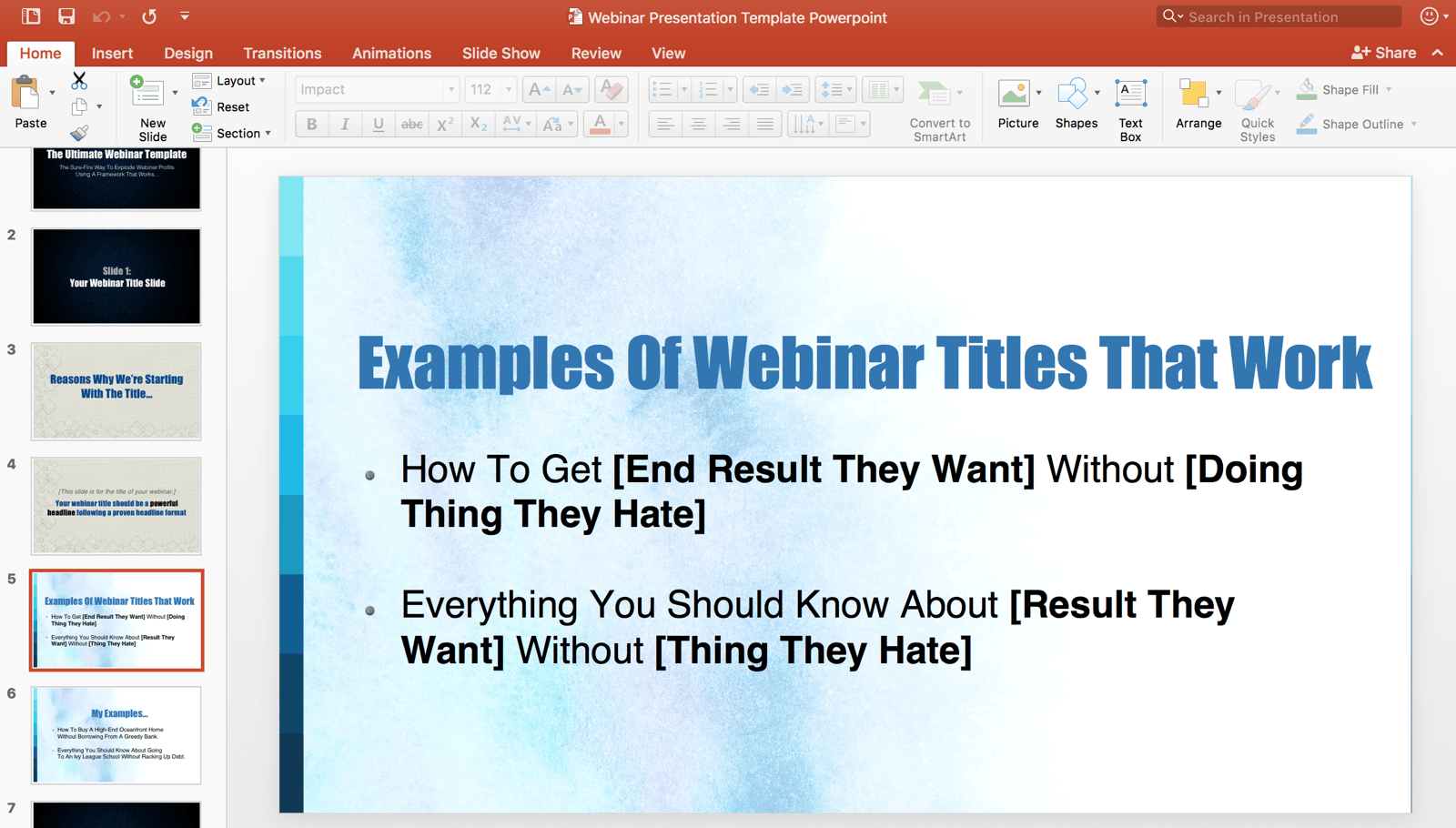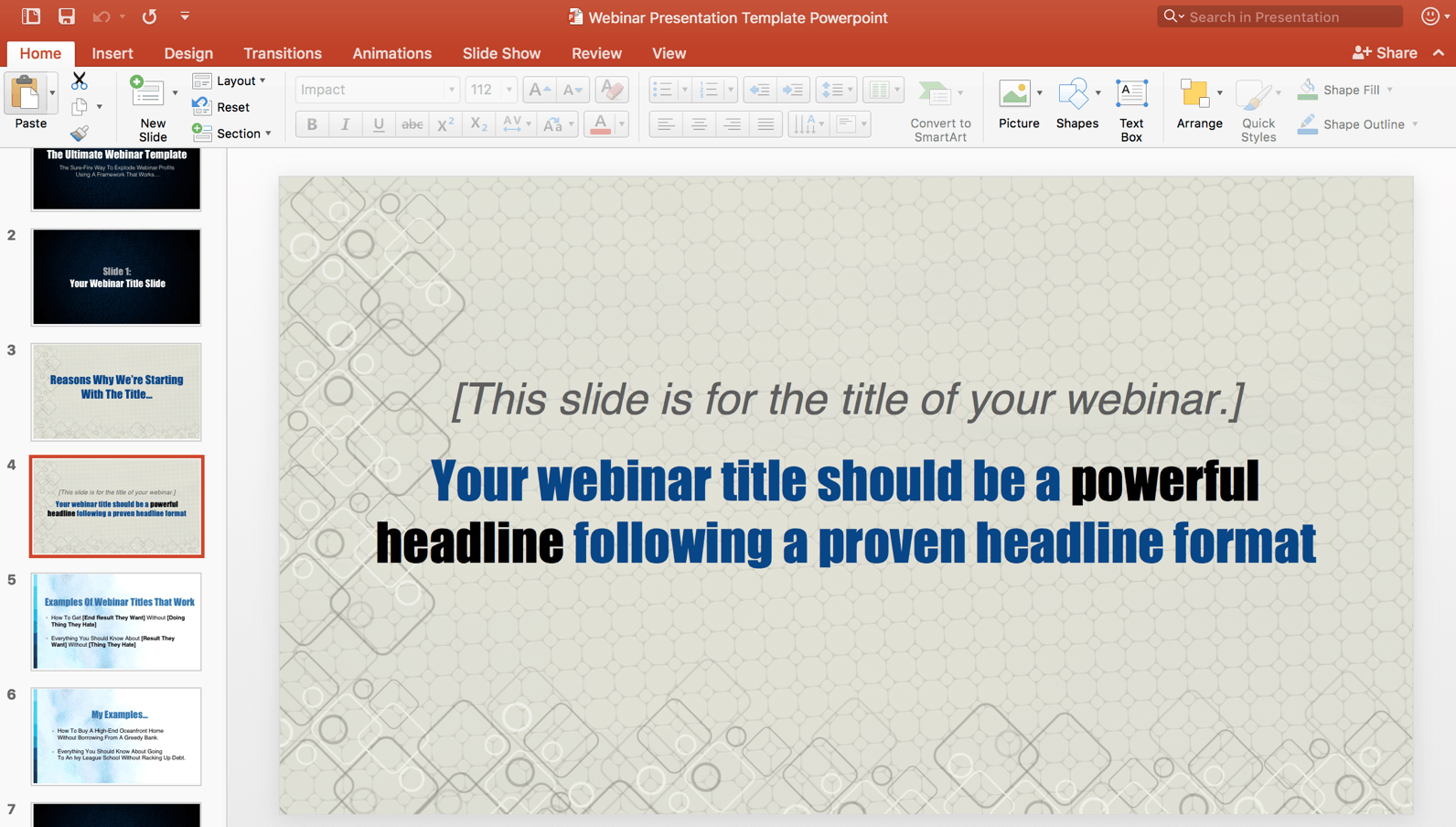 And here are the slides for establishing your credentials…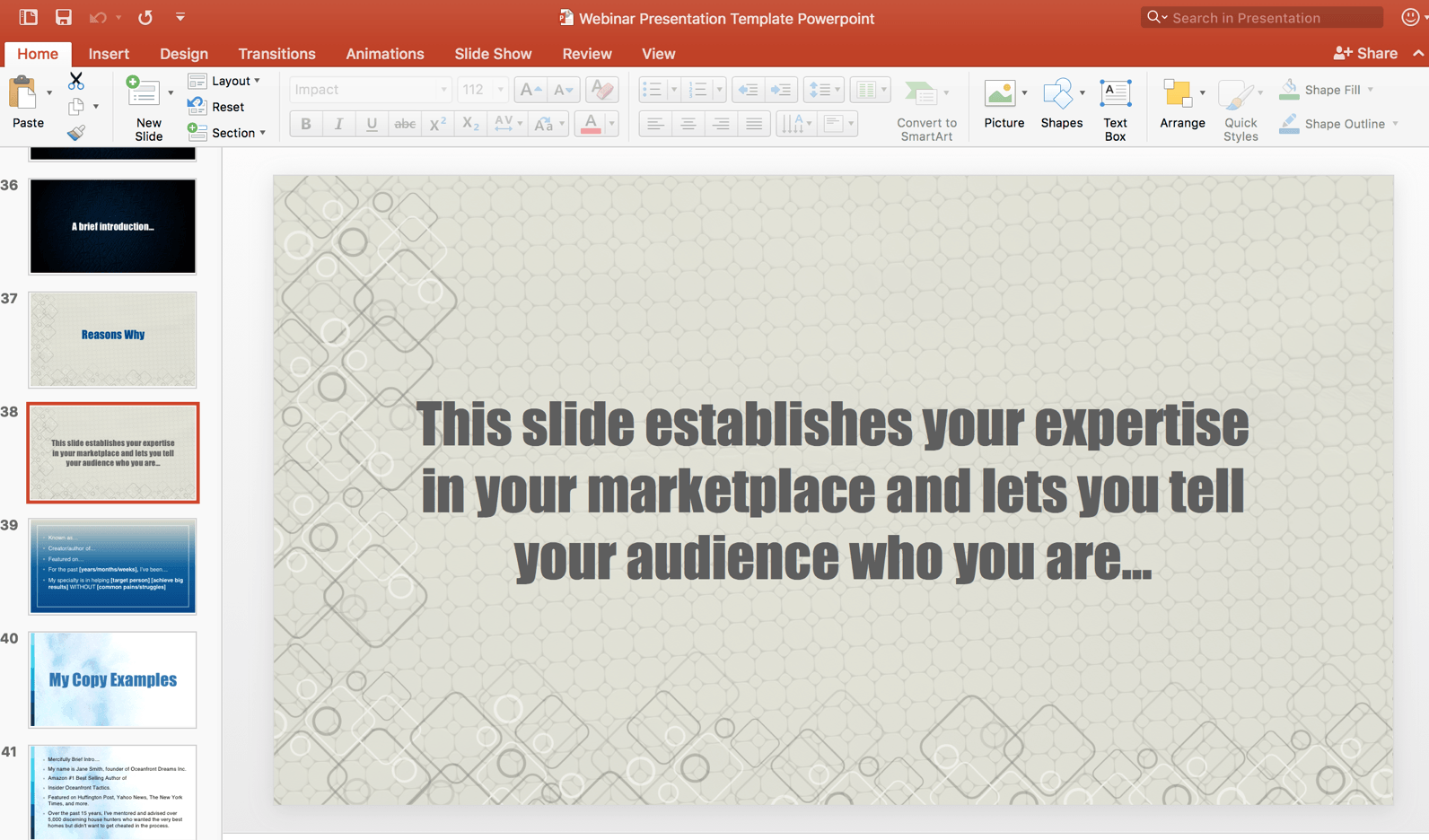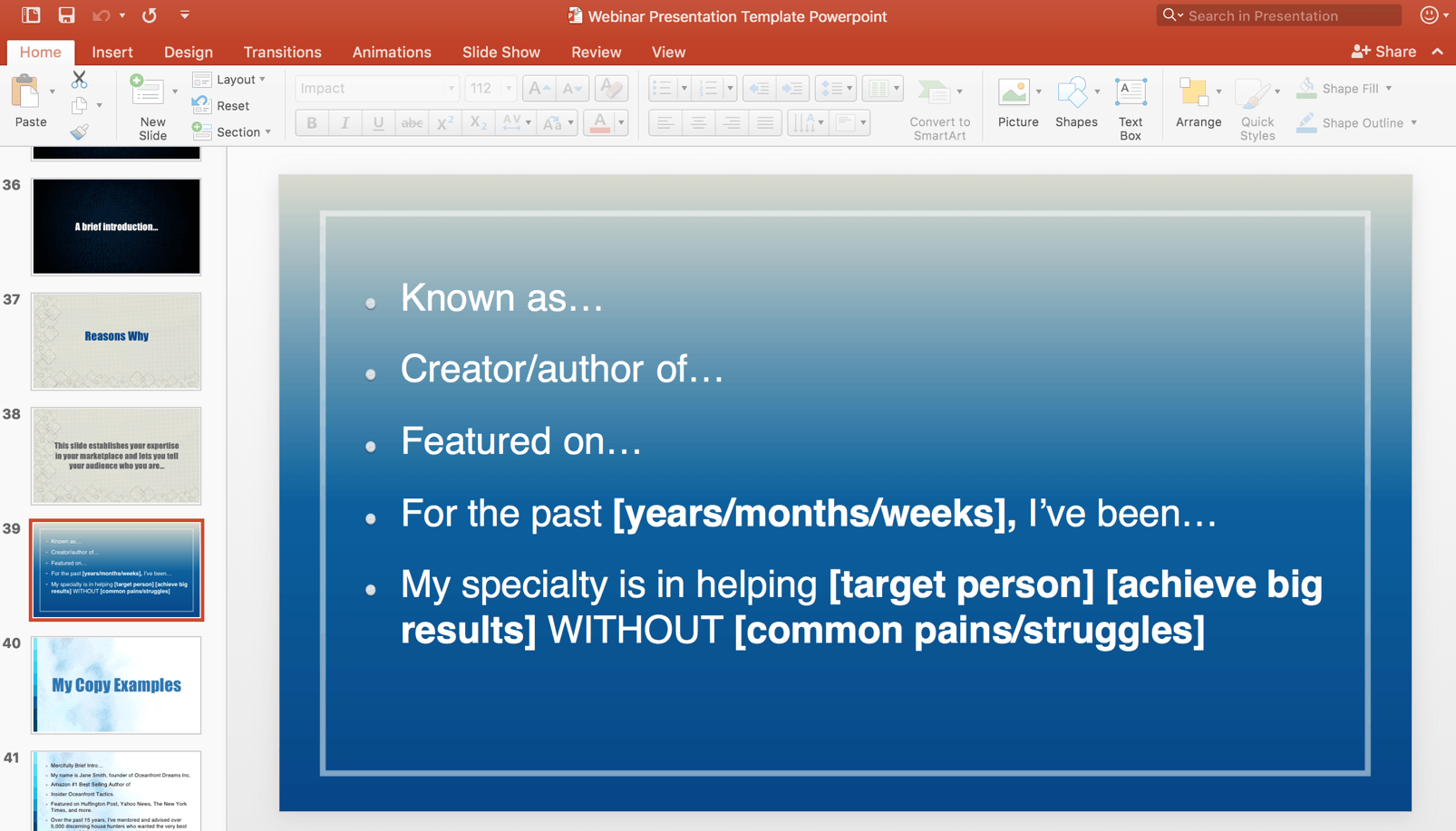 And this is just scratching the surface. Our Webinar PowerPoint Template includes:
Audience stick techniques
Opening loops
Bullet point samples
Copy examples
Teaching sequences
Pre-sale openers
Strong selling and call-to-action methods
How to recap effectively
Altogether, our Webinar PowerPoint Template contains over 130 SLIDES!
That's not a typo. We've constructed over 130 slides for you to customize and use as your own.
And, don't forget, this includes the smart, modern-looking design that is neutral enough to be used with just about any webinar theme. There's nothing to stop you from hiring someone to personalize the slides, but if you want to save time and money, and just use the existing design, you can absolutely do that.
Sound good?
Want to know how you can get our Webinar PowerPoint Template, absolutely FREE of charge…?
Simple…
Download the WebinarJam PowerPoint Template… FREE!
If you've been reading this short series of blog posts you already know what's coming, but otherwise you'll be interested to learn that the WebinarJam PowerPoint Template is just one of a series of gifts that we're giving away as a "thank you" to everyone who attends our forthcoming webinar called, 12 Webinar Secrets.
It's a completely free event, and all you have to do to reserve your seat is visit the registration page and enter your name and email.
And, yes, all of these gifts are free and come with no strings attached – no purchase necessary. Yes, obviously, we're going to offer you an amazing deal for WebinarJam at some point during the webinar, but it's optional and we won't get upset if you prefer to use a different webinar provider(2)Mainly because we feel sad for you having to pay huge sums of money for an inferior product 😉
.
Remember, this isn't a crappy little webinar template that we've knocked together in five minutes and added a splash of virtual paint. This is over 130 slides, with built-in instructions and examples for you to crib from.
We want your webinars to be a success, and anything we can do help your audience and your business grow is all a part of the service!
Assuming you're not reading this after the registration period has closed, please go now and reserve your place. We're very excited about this event and we can't wait to welcome you.
Click Here to register for the FREE 12 Webinar Secrets event and claim your FREE WebinarJam PowerPoint Template.